Social Media During the Holiday Season: 5 Tips to Get your Accounts Ready
Customers rely on social media, whether it's for browsing, looking for product ideas, or purchasing. That's why Facebook, Instagram, or any other platforms such as LinkedIn and Pinterest have always been the advertiser's target. During the Holiday Season, social media will be of paramount importance, so you'll need to be ready for the moment your customers will turn to you. In this blog, we'll give you 5 tips for getting your social media accounts ready to go.
Now that you've seen a tech care checklist and some valuable insights, it's time for you to check your social accounts.
Constantly being on social media has become the norm (hence the surge of social media marketing), but often, accounts aren't set up correctly, or advertisers face problems related to how to show their company in the best way possible.
So now we're going to analyse 5 of the best practices for your social media prep: managing your profile, boosting your visuals, empowering messaging, getting ready beforehand, and establishing your presence.
1. Managing your profile
More than managing, it's about updating. Make sure all your business data on your Facebook or Instagram page are up to date:
Profile picture
Check whether the logo corresponds to the current one, or whether the photo you've chosen is relevant to your business's current products/services. On LinkedIn, for example, you can even add an animated profile picture!

Biography
This is how your customers will see what your business is about! This will depend on your strategy; if you want to encourage users to take action, to generate brand awareness, or to simply outline the basics of your company (working hours, address, main specialisation, etc.). Good bios often include emojis; they're known for catching the user's attention instantly, especially if they match what you're writing.

Company Details
This can be wholly related to your biography. Besides letting your customers know what you sell or specialise in, you need to provide them with further information about how, where, and when they can reach you. It's essential to include this on your profile since this will make the customer's experience much more seamless
2. Boosting your visuals
We've already talked about having the right profile picture for your business. However, it's the Holiday Season, and users expect to see related content in your profile. Therefore, updating your profile picture with a Holiday Season icon can attract customers.
Likewise, posting adequately decorated visuals (with the Holiday Season imagery) will remind your customers that your business is basically state-of-the-art and following the trends.
For example, Starbuck Netherlands is regularly posting Holiday Season-related content, such as videos and personal stories: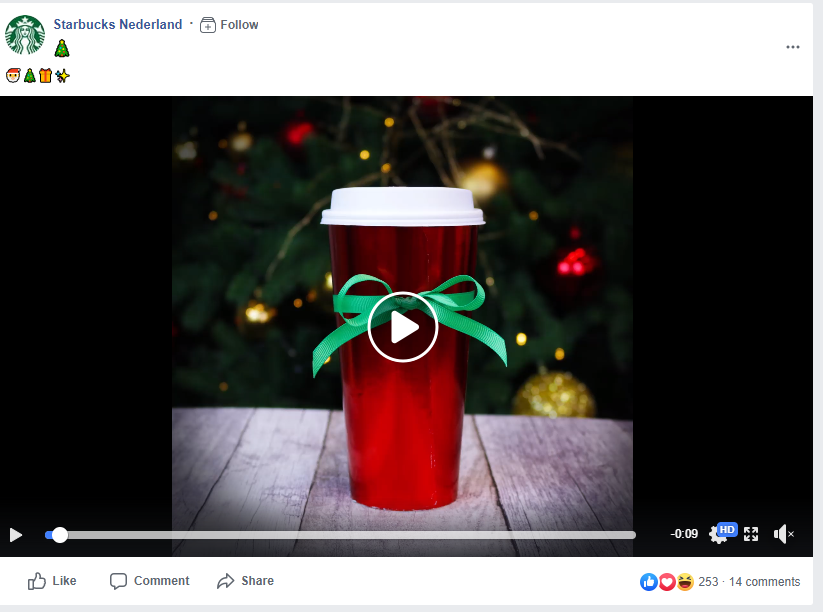 3. Empowering messaging
Social media messaging is one of the first ways in which your customers will contact you. Not only will they expect a quick-responsive service, but they'll also want to be replied all day every day.
That's why automated messages are usually a solution; it doesn't matter if you're not solving their problem/enquiry straight away, but at least they've got an answer. This means they feel they're attended to, no matter the day or time, and that their question will be solved as soon as possible. 
The Holiday Season gets customers anxious. They want the best deal, the best products, the best service.
Make sure you comply with your customers' needs if you want your advertising to be successful, which obviously includes dealing with the high number of messages coming in.
Dealing with them can be a tough task, but by using a community management platform, you can assign tasks and organise messages so that it doesn't become overwhelming.
4. Getting ready beforehand
The Holiday Season means busy months. When things get busy, they tend to get disorganised. To avoid this, schedule your posts; establish dates and times, and, even better: organise your content into projects.
I know it can be tempting to do everything last-minute, but, by following a specific timeline/calendar, your posts can become more meaningful and will develop a logical progression during this unique time of the year.
With the help of Media Injection, this is entirely possible. Access a content calendar where all your posts will be shown and decide on which time, date, and channel these will be posted. You can request a free demo here.
5. Establishing your presence
What are the things you want your customers to remember about your business? Don't forget, the Holiday Season means a lot of competition. Earn yourself a competitive edge by making your business memorable: upload Holiday Season-related GIFs, contests, promotions, memes (everyone loves them!), etc.
---
So that's all, really.
Social media is a powerful tool for advertising. Customers turn to it in search of new ideas, products or services they're interested in, and/or businesses they want to visit. During the Holiday Season, these urges are even higher. That's why all these tips will help you get your accounts good and ready so that customers find and turn to you on these platforms.
By displaying a crystal clear biography and an eye-catchy profile picture, increasing your Holiday Season original content and visuals, owning a quick and effective messaging system, and planning ahead, your Holiday Season will be more likely to be successful.